Advantages
EZ Dock Features & Advantages
In addition to its incredible versatility and durability, one of the chief benefits of your EZ Dock system is your ability to leave it in the water year round — eliminating the hassle of installing and removing your dock before and after each boating season. Some of the chief advantages of the EZ Dock system include: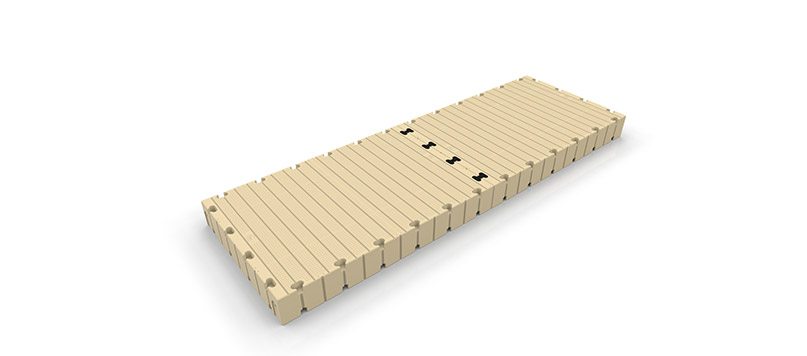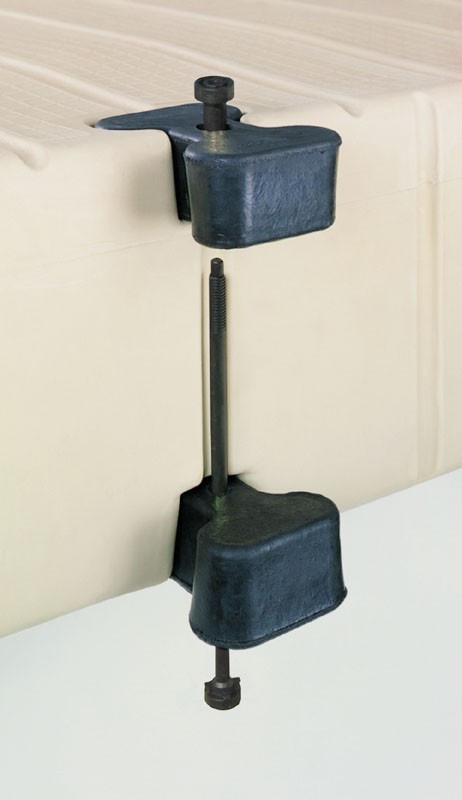 Easy to Connect Dock Sections and Accessories
Rubber couplers are used to connect dock sections to one another. Use an In-Water Installation tool to pull the coupler up from in the water, connect the top rubber coupler and tighten with a composite nut.
Slip-Resistant Surfaces for Safety
The walking surface of each dock section has an orange peel-type texture along with a raised pattern to provide slip resistance. The rubber coupler allows for all dock sections to be tightly connected to one another. Gap-free = no tripping.
Attractive Look and Feel
Available in beige and gray, EZ Dock looks great on any waterfront. The walking surface has an orange peel-like texture with raised grid pattern for increase slip resistance.
Durable, All-Season Functionality
On many lakes and ponds, EZ Dock can remain in the water year-round. How? In the summer your EZ Dock system will sit in the water about 2". When the lake freezes, the dock will lift up on top of the ice. In the spring when the ice melts and shifts, the rubber couplers are designed to flex in all directions to keep your investment safe from damage. (Consult with your dock specialist about winterizing your dock before leaving it in.)
Exceptional Stability in the Water
The patented flotation design on EZ Dock is what creates its tremendous capacity and stability. The underside of EZ Dock looks like a giant ice cube tray. You'll notice flat areas and empty cavities. The flat areas (like a traditional dock) displace water, creating stage 1 of flotation. The open cavities trap air under the dock. These air pockets create additional capacity, but they also create stability. As you walk on the dock, there is a push and pull relationship between the air chambers. They are always working to keep the walking surface level. The two-stage system creates industry-leading stability and flotation capacity.
No Maintenance Required
There's not much to maintain. A quick powerwash and you're as good as new. If leaving your dock in year round isn't an option, EZ Dock can easily be removed in sections for the winter and never requires any maintenance. No wood splinters, no nails or sharp objects.
Easy to Install, Remove, Expand
EZ Dock makes it remarkably easy to expand and change your dock system. The modular female pockets around the perimeter of each dock section allow you to easily add more sections and accessories. Did you get a new boat? Need some additional living space on your waterfront? No matter what changes or new configurations you need, we make it easy for you.
Environmentally Friendly
EZ Dock is designed to be eco-friendly and is a great alternative to wooden dock systems, some of which may use lumber that is treated with copper, chromium or arsenic. These lumber products can release harmful substances into their natural surroundings. EZ Dock does not require foam filling, which allows for filtered light penetration to the area below the dock.
Countless Applications
Our versatile, durable docks are perfect for residences, commercial and governmental uses; as well as for camps, parks, trail systems and more.
Innovative Features
The first dock of its kind and the last dock you will ever buy. For more than 25 years, EZ Dock has been designing and manufacturing cutting-edge dock products for all segments of the dock and lift industry.
Incredibly Versatile
Our modular sections are available in standard and some custom sizes that enable you to design the exact layout for your ideal dock.
Sizes
Sizes of EZ Docks Available
Choose from many different sizes and shapes to get the exact dock configuration you desire. The pioneering EZ Dock system makes it a snap to install. Standard sizes for our rectangular dock sections include: 40″ X 60", 40″ X 120″, 60″ X 120″ and 80″ X 120″. We also offer half-hexagonal and corner sections.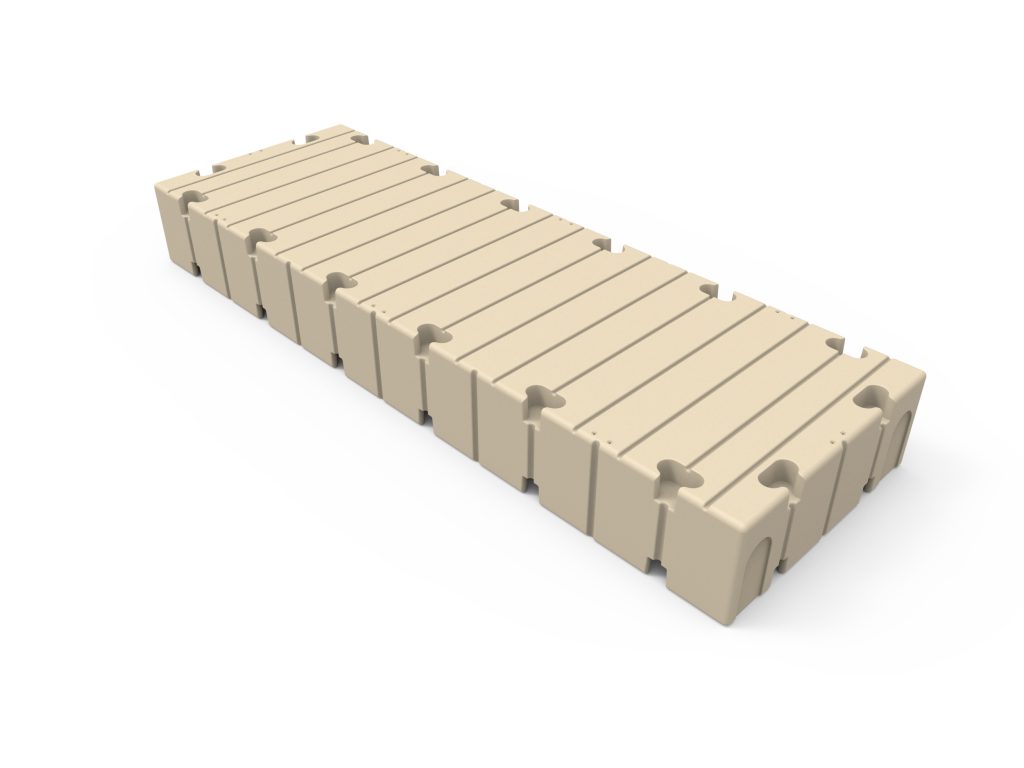 40 Inch Dock
Dock Size:
40" W x 10' L x 15" H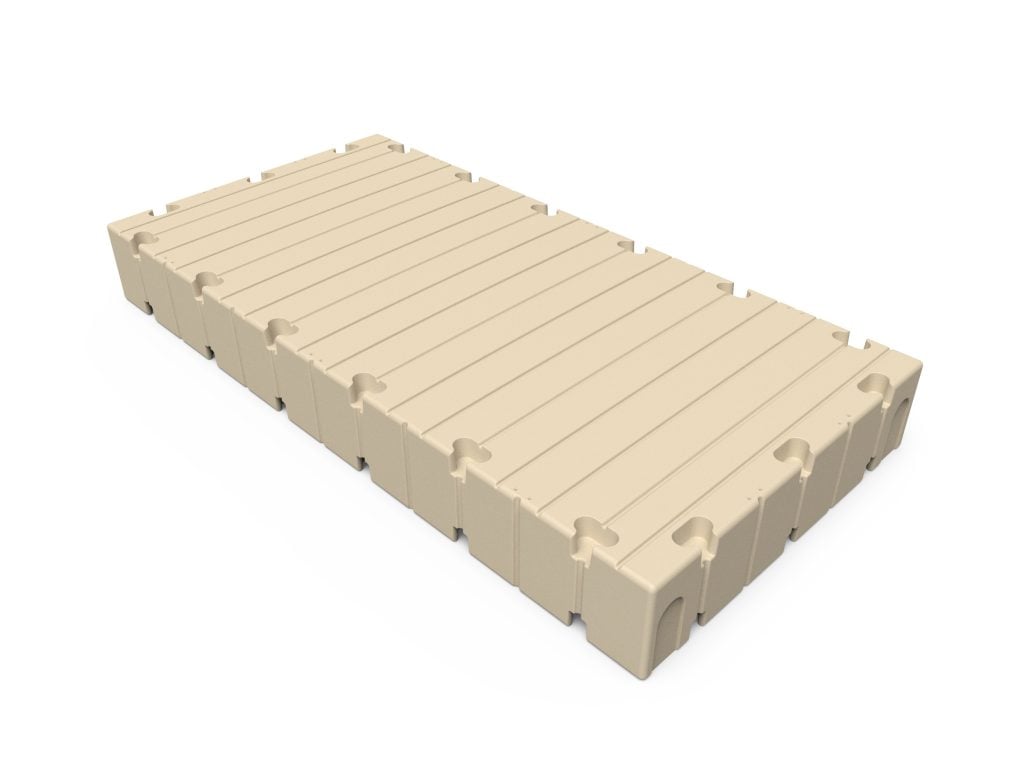 60 Inch Dock
Dock Size:
60" W x 10' L x 15" H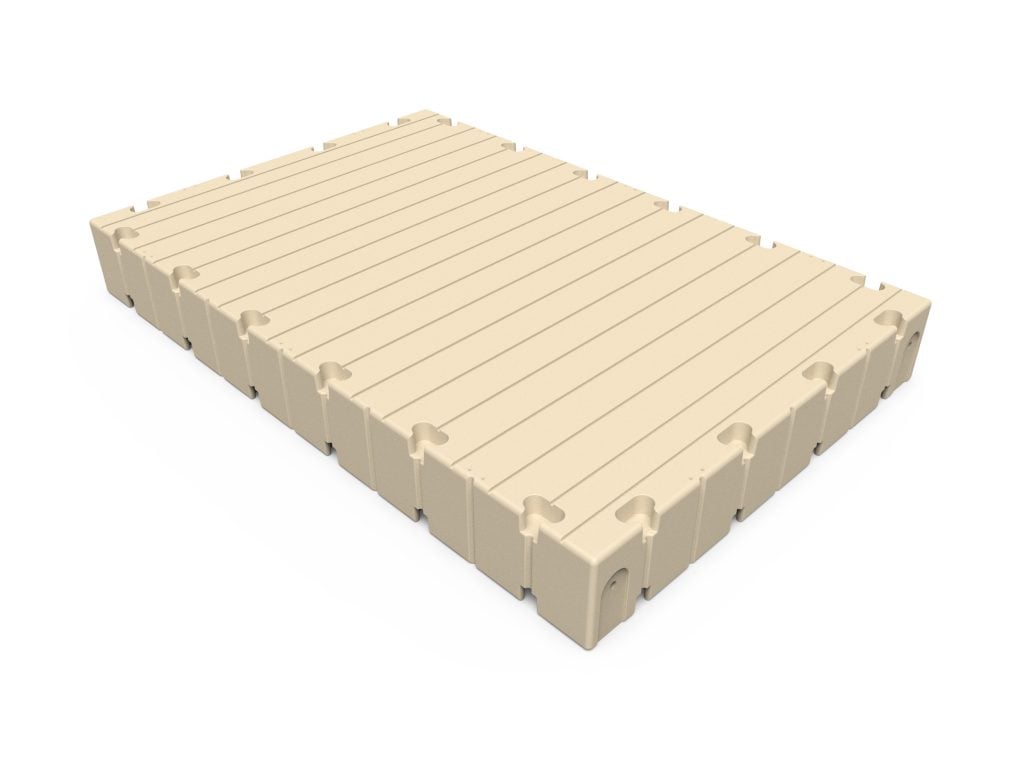 80 Inch Dock
Dock Size:
80" W x 10' L x 15" H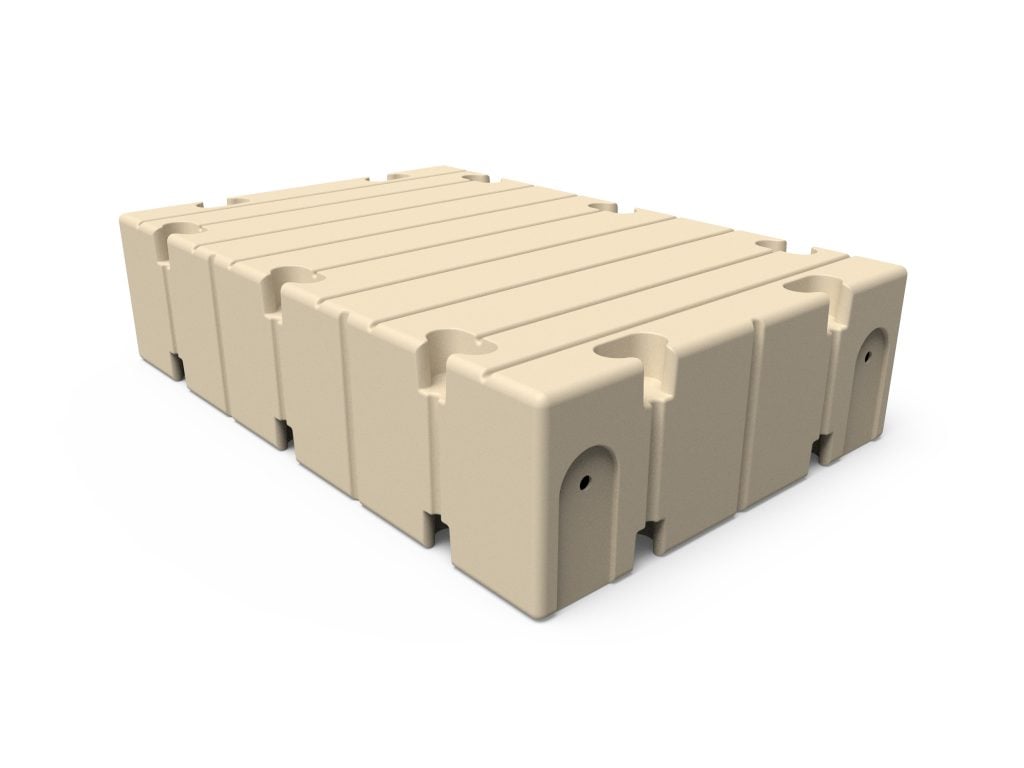 40 x 60 Inch Dock
Dock Size:
40" W x 5' L x 15" H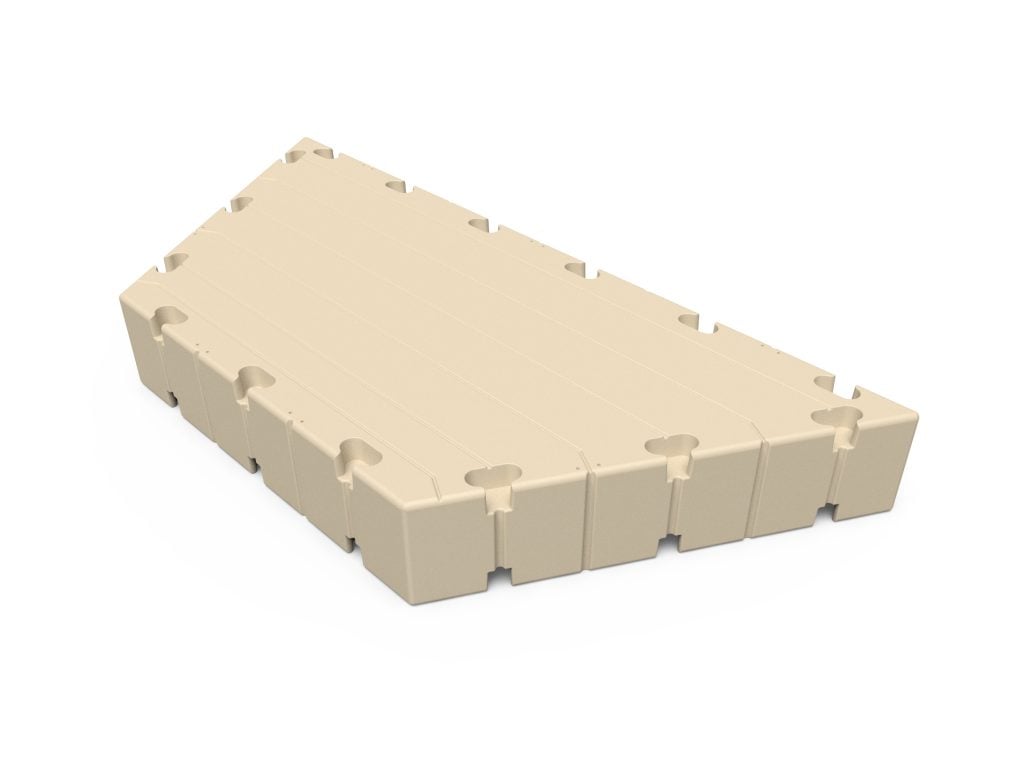 Half Hexagon
Dock Size:
60" W x 10' L x 15" H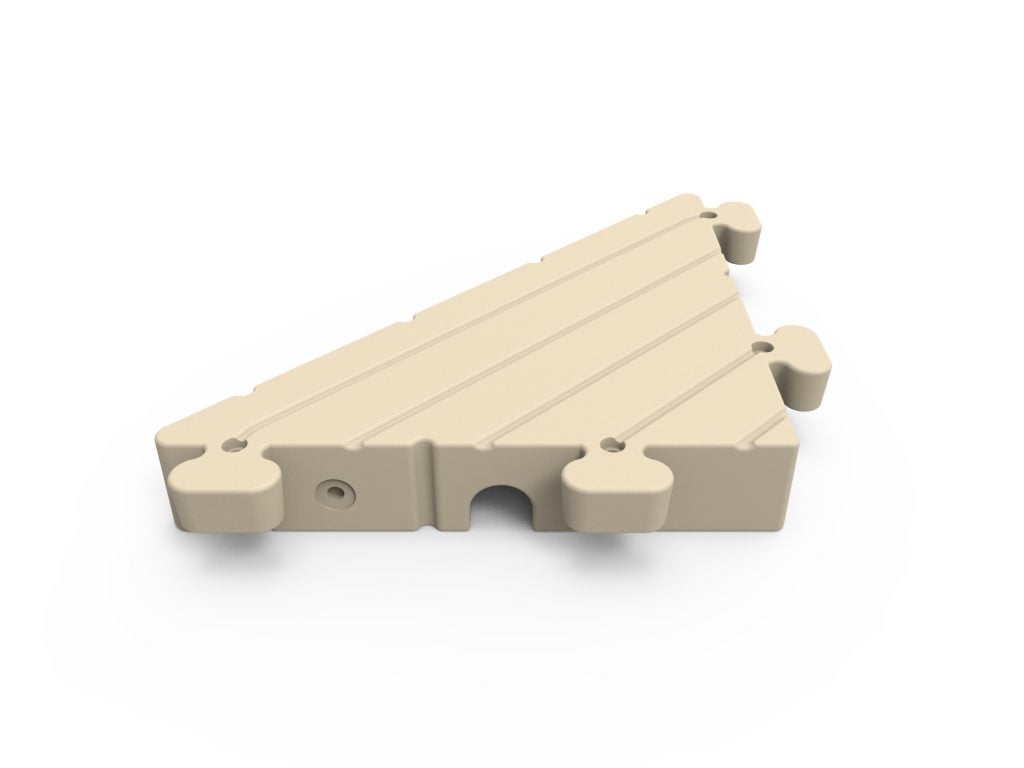 Corner Gusset
Dock Size:
34" W x 47" L x 6" H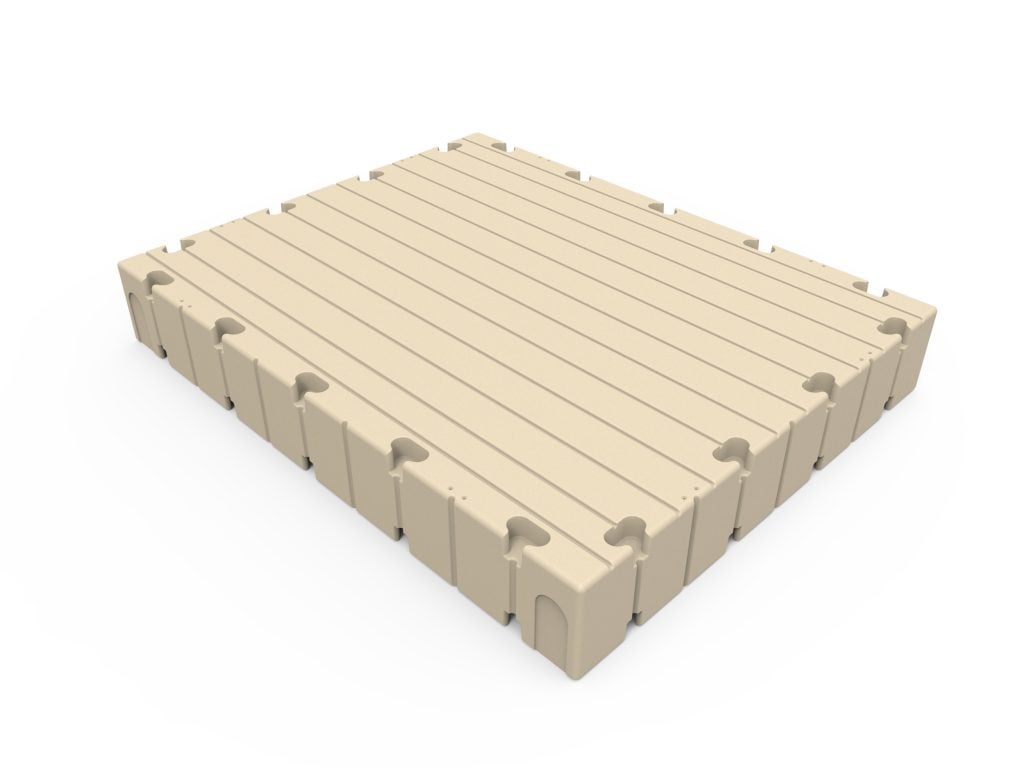 Dock Size:
100" W x 80" L x 15" H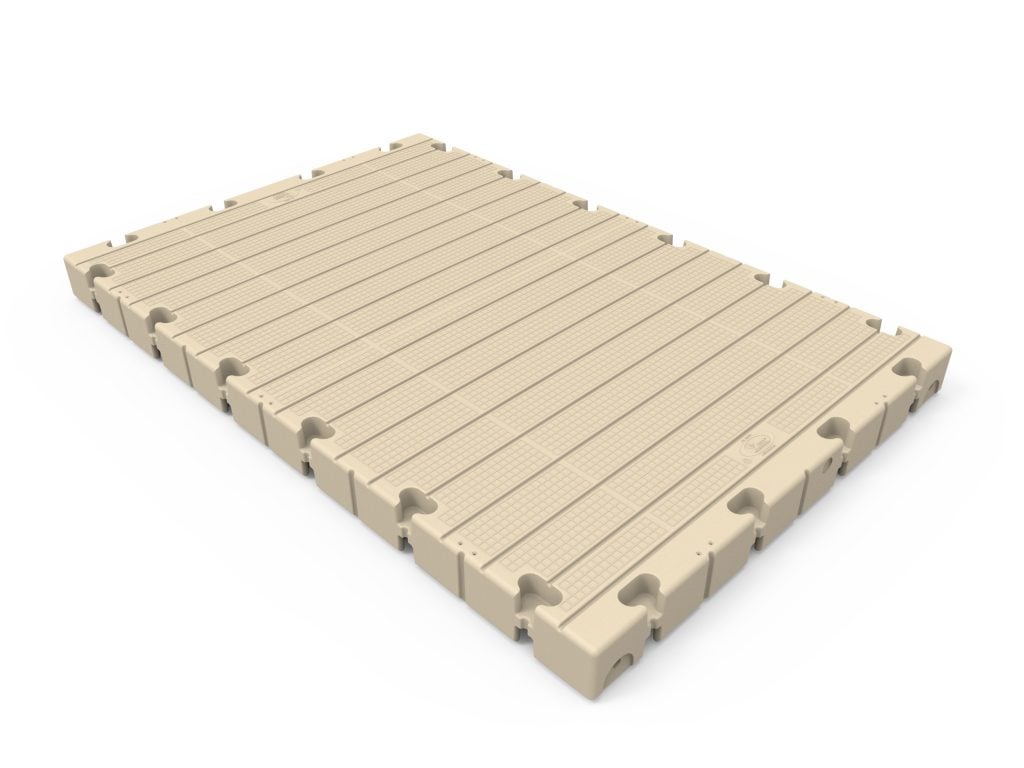 Dock Size:
80" W x 120" L x 8" H (Low Profile)
Applications
Our versatile, winter-resistant EZ Dock system is ideal for a wide range of uses, including homes, marinas and commercial uses, camps and public parks, as well as countless recreational, governmental and industrial applications.
Sample Configurations
Our state-of-the-art modular design enables you to assemble an endless variety of shapes, layouts and configurations — making it easy for you to design the ideal dock system for your unique waterfront needs.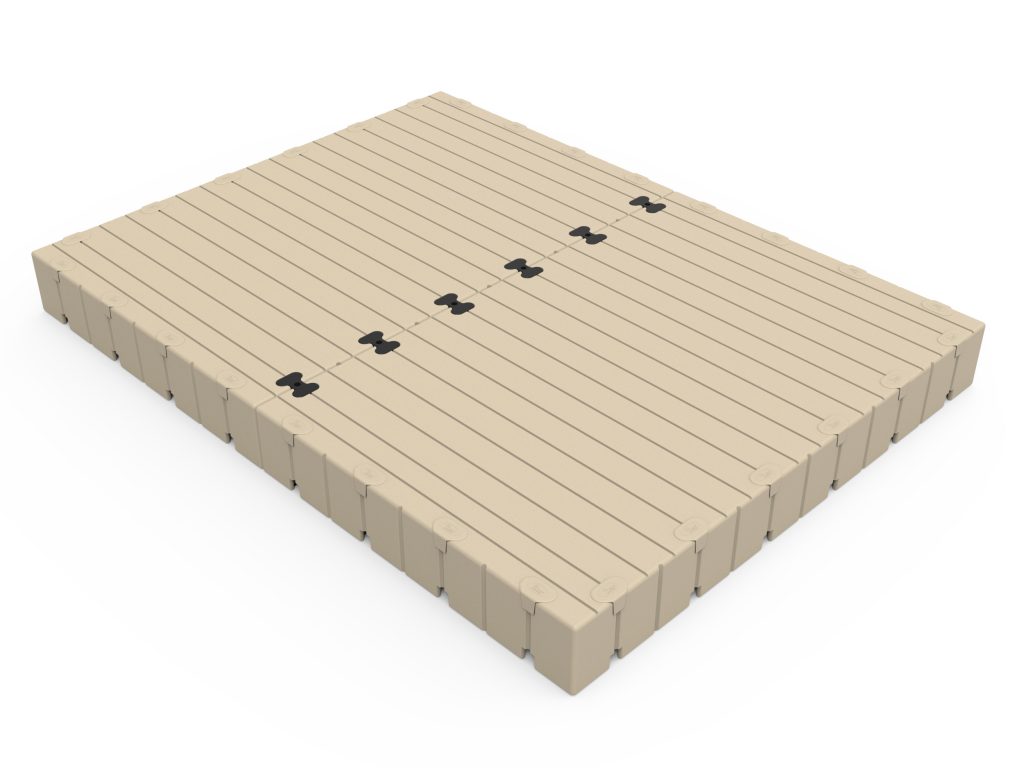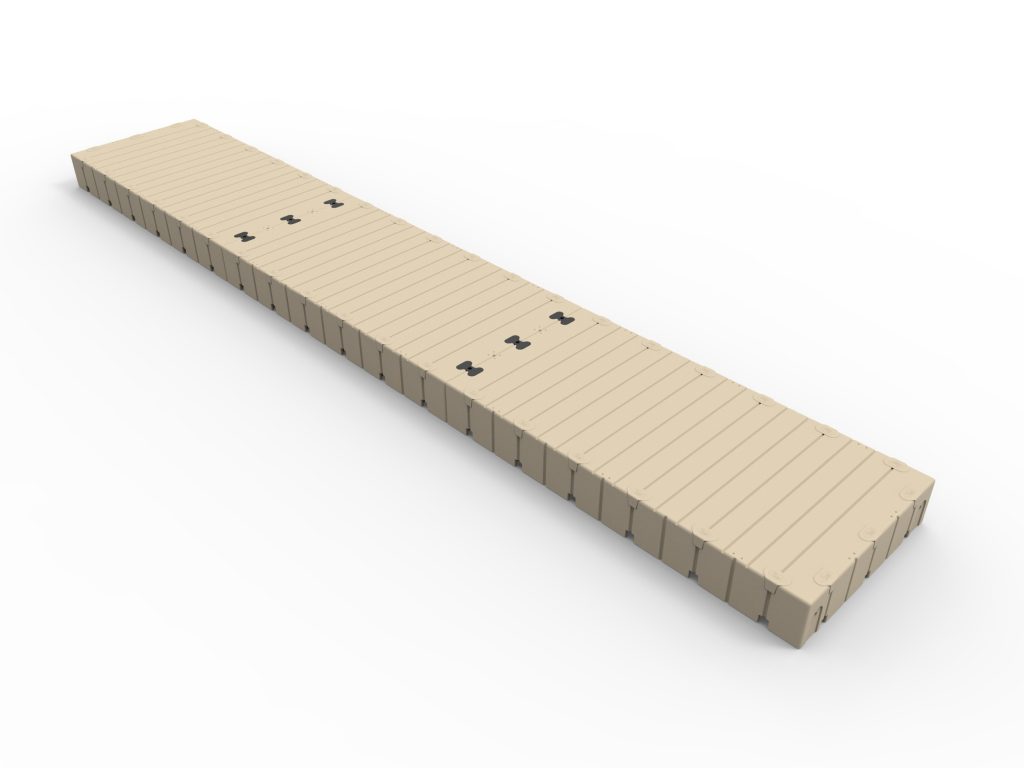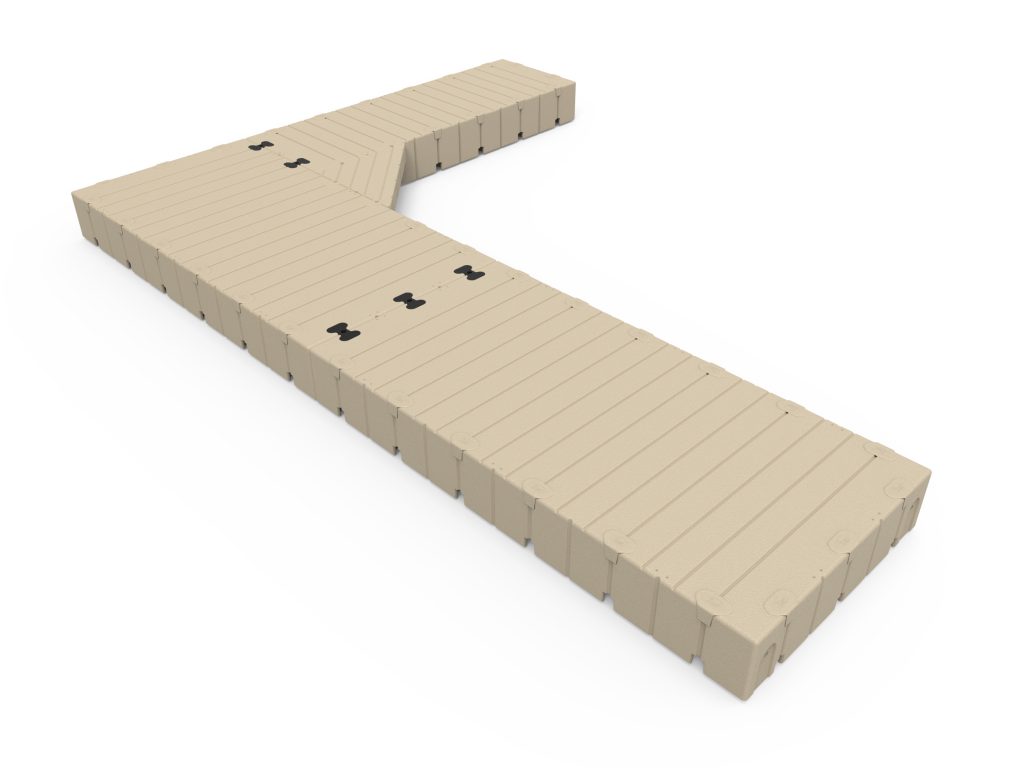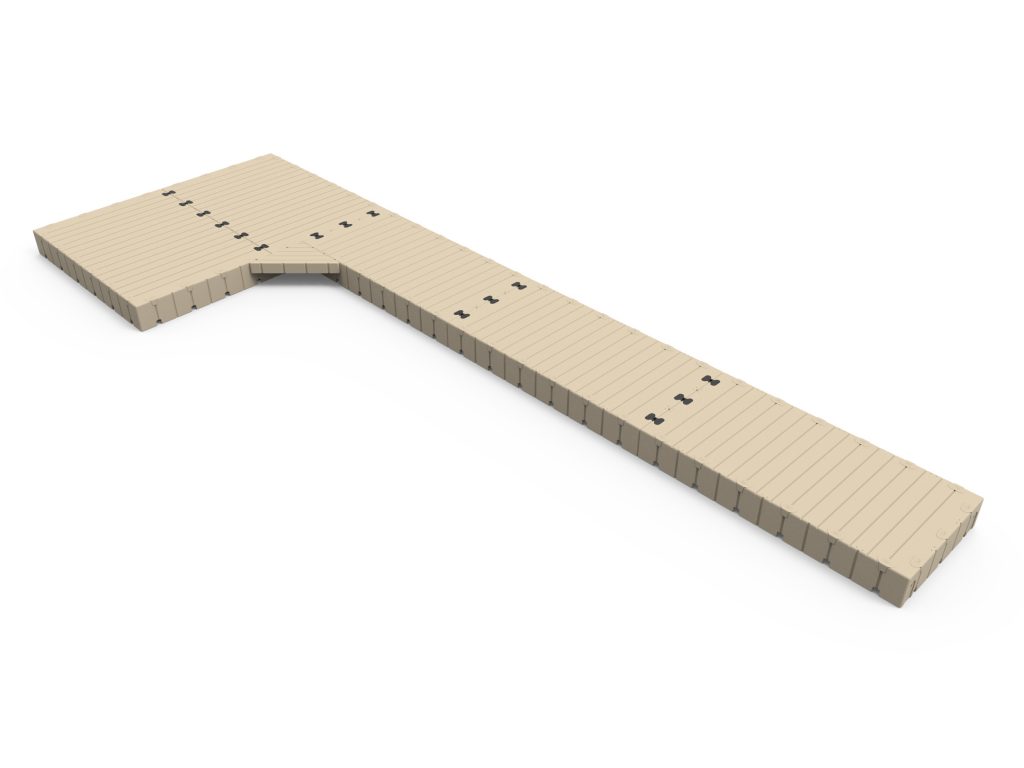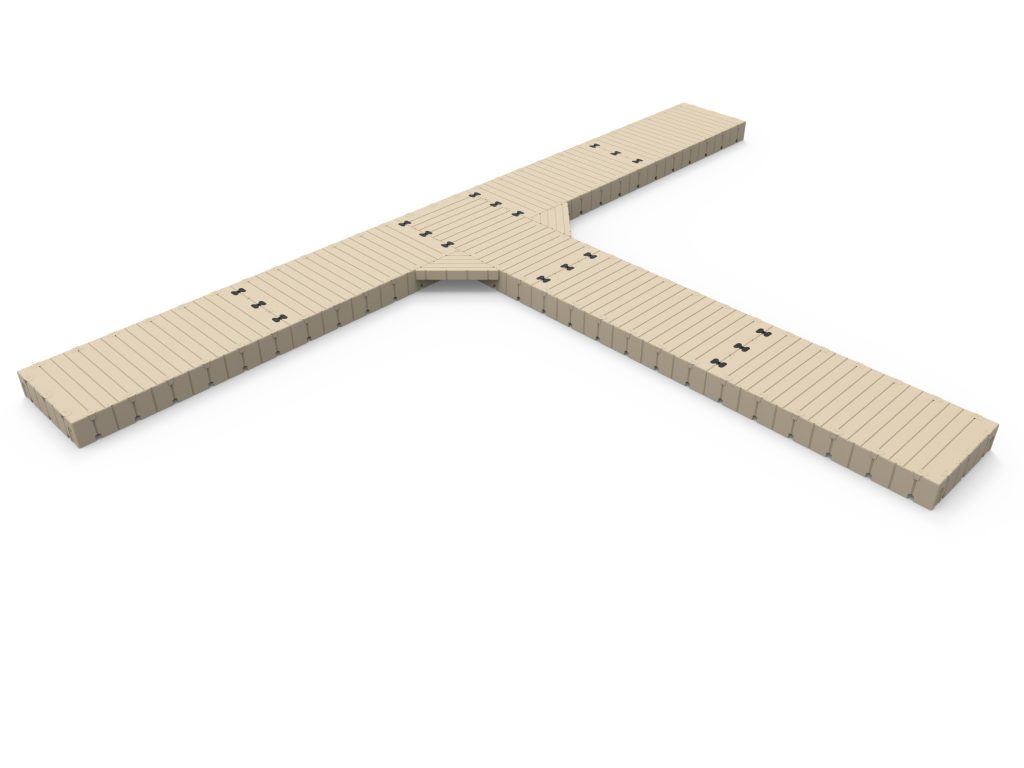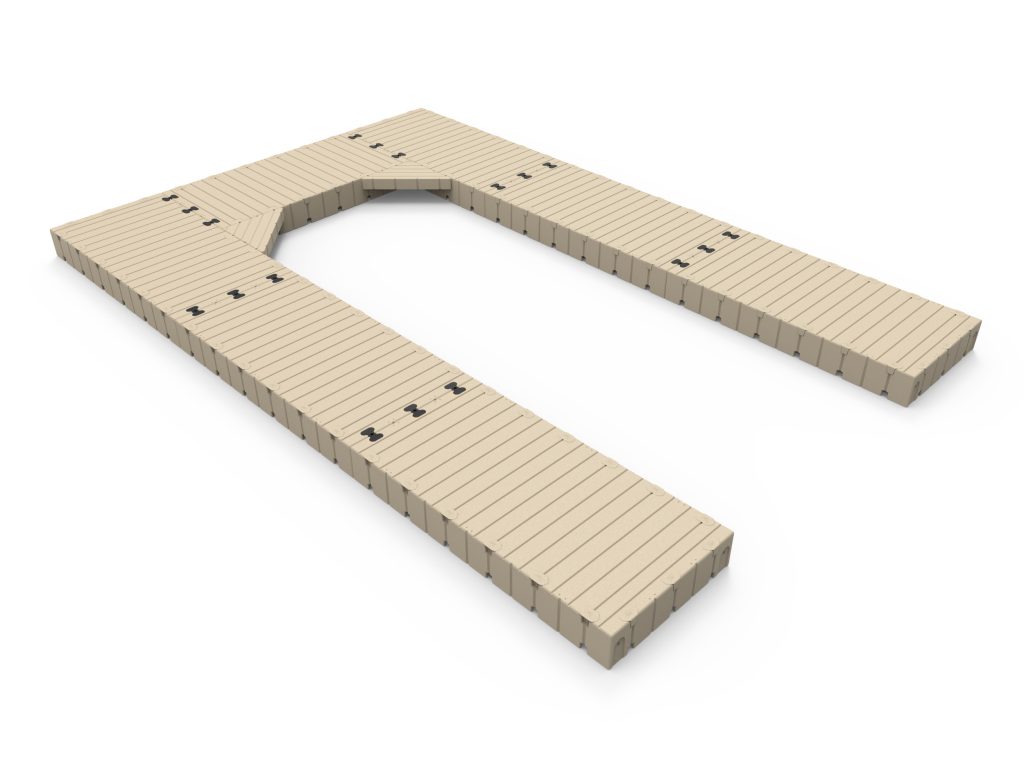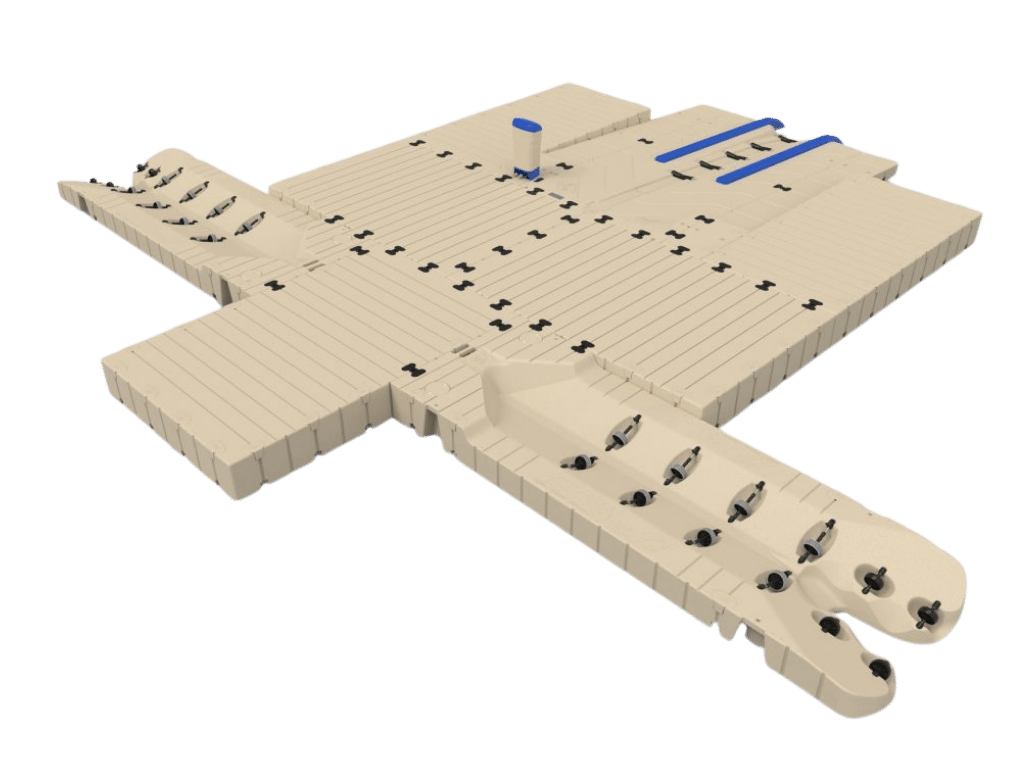 Warranty
Built to Last a Lifetime

Our durable, long-lasting dock systems are designed to provide many, many years of dependable service and enjoyment with minimal maintenance. They are crafted from the highest-quality materials and components, and we proudly stand behind all of our products.
Reviews
See what some of our customers are saying...
My neighbor bought an EZ Dock a few years back. He loves his and now I love mine. It has been well worth the investment. You guys were great at helping us with the design and we couldn't be happier with our purchase. Thanks again.
Your EZ Dock product is great. It's going to outlast me and the best part is I never have to pull it out for winter. I never thought a floating dock could be so stable and done without the use of annoying Styrofoam blocks. Worth every penny!
Your sales team was a tremendous help in walking me through your product lines and options. They helped make comments and suggestions and even sent me to a few local installations they had done. They all looked terrific. The docks are tremendous, but the company behind it is top shelf. The service and advice you gave me far outweighed any of the competitors I spoke to. I leave my dock in year round and haven't had to touch it in five years. I get a ton of compliments and I can't tell enough people on the lake about your company. I highly recommend spending the time and money to seek out EZ-Dock Northeast and FWM. Thanks again.
FAQ's
We're Here to Help
Here are the answers to some of the most Frequently Asked Questions about our versatile, durable FWM Dock systems. If you have a question that you don't see answered here, please contact us.
Q: Can I install the EZ dock on my own?
Absolutely. EZ Dock is a DIY friendly product and requires just a few hand tools and a little mechanical ability. It's recommended that you buy an in-water installation tool and that you have a friend to team up with. Our dock specialists are great at walking customers through the installation process. We also have install crews available if you choose to go that route.
Q: Can I leave my EZ Dock in the water year round?
The short answer is yes. But it's best to discuss your site with one of our dock specialists to be sure. We have been working with the EZ Dock product for over 10 years, and we have thousands of dock sections throughout the Northeast that remain in the water year-round. The product itself is safe in the ice, it is important to discuss any site-specific variables that could increase the risk of damage.
Q: How does EZ Dock handle marine growth?
Unfortunately, like all dock brands, EZ Dock is susceptible to marine growth. That said, there aren't too many docks on the market that have the level of flotation capacity provided by EZ Dock (62.5 lbs. per square foot). This means that if you are leaving your dock in year round it would take a tremendous amount of growth to affect the performance of your dock. If you take your dock out seasonally, we recommend flipping the dock over and letting the growth die. Once dead, the marine growth should easily come off the low-density polyethylene EZ Dock material.