Advantages
Versatile, Expandable, U.S.-made
EZ Dock's Low Profile Rowing Dock stands just 8" tall on dry land and offers an industry-leading freeboard height of just 5½" in the water. Designed to deliver exceptional stability, the 80"x120" dock sections utilize our patented rubber coupler system that allows the dock to flex and absorb wave energy in the water. Versatile and expandable, the dock sections require little to no maintenance and offer four-season accessibility.
Low Freeboard Height
Just 5- 1/2"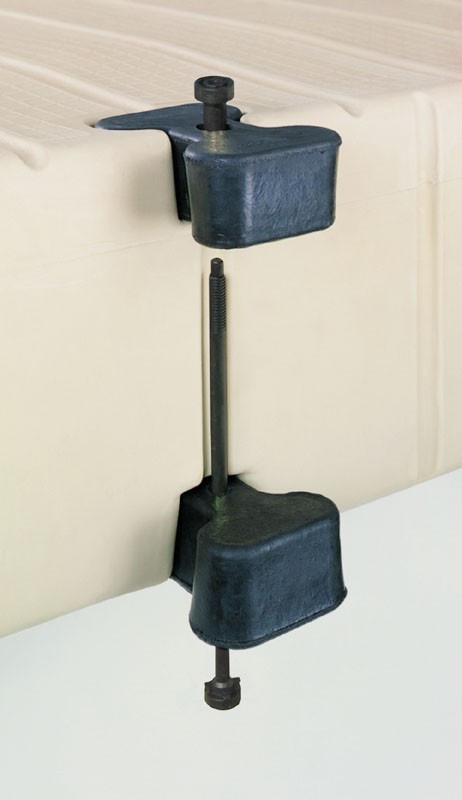 Utilizes standard EZ Dock Coupler System
The portability offered by our rugged 25" polyethylene wheels makes it incredibly easy to roll your dock into and out of the water. The FWM Rolling Dock is ideal for smooth shorelines that are free of large rocks or obstacles.
Exceptional stability on water
1,900 lbs. flotation capacity
Four-season accessibility
Easily attaches to traditional docks
Rowing Dock Seciton
Just 5.5" of freeboard
Rowing docks in the past have been inflexible steel or plastic connections between dock sections. EZ Dock Low Profile Rowing Dock sections utilize our patented rubber coupler system that allows the dock to flex and absorb (storm video) wave energy in the water.1
Warranty
Built to Last a Lifetime

Our durable, long-lasting dock systems are designed to provide many, many years of dependable service and enjoyment with minimal maintenance. They are crafted from the highest-quality materials and components, and we proudly stand behind all of our products.
Reviews
See what our customers are saying..
I love the dock. It looks nice and is comfortable, stable and virtually maintenance free. EZ Dock is just what the name implies — Easy.
I used to have a competitors dock system and it was shaky and unstable. I thought I was going to have to live with it until you gave me the guidance to go with an EZ Dock system. I love it. I never have to worry about the water fluctuating or about removing it ever again. Thanks guys.
I am very happy with my dock and the service FWM provided. Within 2 months of having my EZ Dock I wanted more and they were able to do that during the busiest time of year.
FAQ's
We're Here to Help
Here are the answers to some of the most Frequently Asked Questions about our versatile, durable FWM Dock systems. If you have a question that you don't see answered here, please contact us.
Q: How long does it take to get my EZ Dock?
As one of the largest distributors in the United States, we have most items in stock year round. Delivery and installation lead times can sometimes push to 2 to 3 weeks in May and June. It is always best to get your orders in as early as possible to avoid any delays.
Q: Is EZ Dock environmentally safe?
EZ Dock is made to be an environmentally friendly product that you can safely put on the water. Our dock sections do not rust, splinter, dissolve or have any paint or chemicals that can leach out and harm the environment
Q: What is inside the EZ Dock sections?
Believe it or not, there is nothing inside the EZ Dock sections, just air. It is a sealed chamber with a hydrophobic vent on the width end that allows for hot and cold air to travel between the inside and outside.