Advantages
Safe, Stable Platform for Swimming, Splashing, Relaxing
Enliven your access to the water with swim floats from FWM Docks and EZ Dock. Easily add ladders, slides or other accessories for optimal swimming, splashing and fun. Our slip-resistant surfaces and innovative flotation designs provide a safe, secure and stable platform that is ideal for residential recreation as well as municipal swim areas.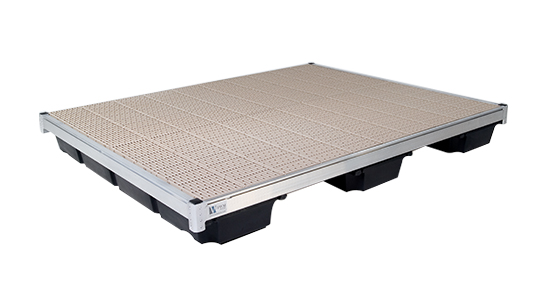 FWM Docks Swim Floats
With a convenient track system designed for smooth connection of ladders and other accessories, your FWM Swim Float is great for getting offshore and swimming in deeper waters. The 8'x10′ sections offer endless possibilities to create your own aqua patio. Available in any of our standard decking surfaces, the swim float features a modular, low-lying design that also makes it kayak friendly.
Sizes
Build Whatever Size You Need
FWM Docks swim floats come in standard 8'x10′ sections that offer endless possibilities to expand. EZ Dock's floating dock sections, available in a wide range of sizes, can be configured any way you desire to create the perfect swim platform.
Applications
Ideal for a Wide Range of Uses
Residential and recreational, commercial and industrial, and much more — our top-quality dock sections are safe, sturdy and built for the long haul.
Commercial
Our standard dock products are perfect for the small to mid-size marinas. We offer a rugged and proven design that allows you to maximize your slip space while drastically reducing your overall cost of ownership. With financing and leasing options available there has never been a better time to find out how you can benefit from an FWM aluminum dock.
Residential
Wouldn't it be great to have the best dock on your lake? With so many options available in the residential aluminum dock market it's easy to get confused. At FWM we make things simple. We provide our residential customers with low maintenance docks that are both quality built and hassle free.
Camps/Parks & Recreation
We offer stationary, rolling and floating aluminum dock systems that are perfect for camps, parks, and recreation projects. With our standard dock system you can easily create cost effective swimming areas, boat launches, kayak launches, etc. You can even change the dock sections around in a matter of minutes to create a special layout for an upcoming event.
Home Owners Association
Over the years we've created several dock systems for homeowners associations. Whether your upcoming waterfront project is large or small we can provide you a maintenance free docking solution that benefits everyone in your community.
Why FWM Docks?
Dock Innovators Since 1975
For nearly 50 years, family-owned FWM Inc. has been developing and fabricating cutting-edge aluminum products for a range of applications. Today, we are a nationally recognized producer of modular aluminum and plastic dock solutions, and the Northeast's premier distributor of the all-season, polyethylene EZ Dock system.
Our industry-leading Aluminum Roll-In Docks are easy to install, extraordinarily durable, and practically maintenance free. They feature a lightweight, modular frame design that makes it easy for you to create, install, and store your own custom dock configuration.
We are proud to offer our customers a full spectrum of options as we work with them to build the safe, beautiful, long-lasting dock system of their dreams.
Warranty
Built to Last a Lifetime

Our durable, long-lasting dock systems are designed to provide many, many years of dependable service and enjoyment with minimal maintenance. They are crafted from the highest-quality materials and components, and we proudly stand behind all of our products.
Reviews
See what our customers have to say...
We love our swim raft. After fighting with a massive wooden raft for years, it's a nice change to just have to pull it closer to shore and leave it for the winter.
FAQ's
We're Here to Help
Here are the answers to some of the most Frequently Asked Questions about our versatile, durable FWM Dock systems. If you have a question that you don't see answered here, please contact us.
Q: Can I Install a FWM Dock on my Own?
Installing your new dock system from FWM is relatively easy. It does require a bit of mechanical ability, but if you have a friend and can lift 50 lbs. it can usually be completed within a few hours. You can always reach out to your dock specialist for tips on installing your particular layout or check out our owners manual for reference.
Q: Do you offer removal services for my FWM Dock?
We do offer seasonal installation and removal services for both FWM Dock and EZ Dock products.
Q: How long does it take to get my FWM Dock?
Lead times can vary based on the season. Typical lead times are 1 to 2 weeks, but we always recommend getting your deposit in ASAP so you can have your dock system exactly when you need it.