Advantages
Sturdy, Non-Slip Access to Your Dock System
Ideal for residential or commercial, fresh or saltwater settings, our specially designed aluminum gangways help you easily bridge the distance between dry land and your dock.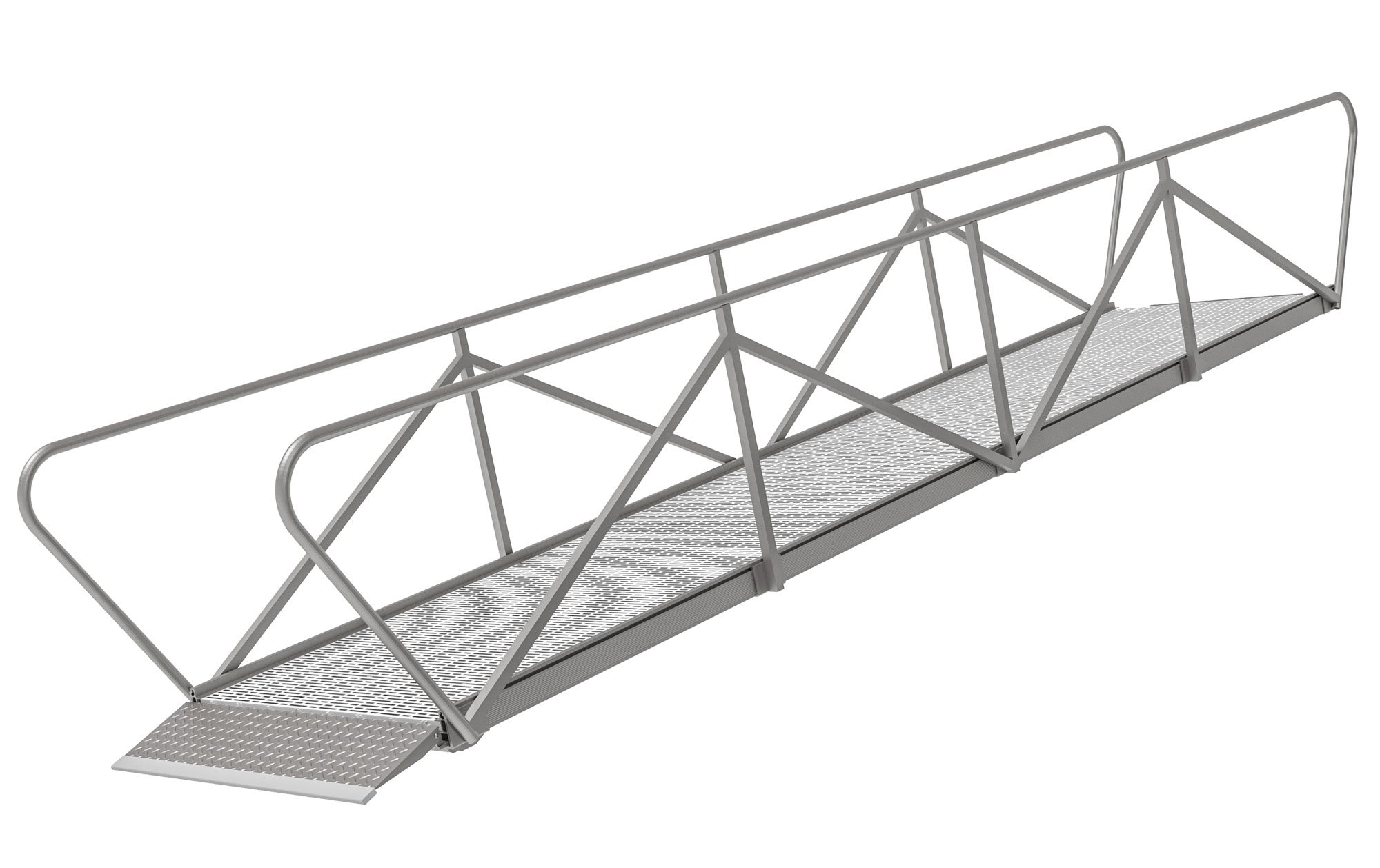 Decking is available in aluminum or Thruflow beige and gray.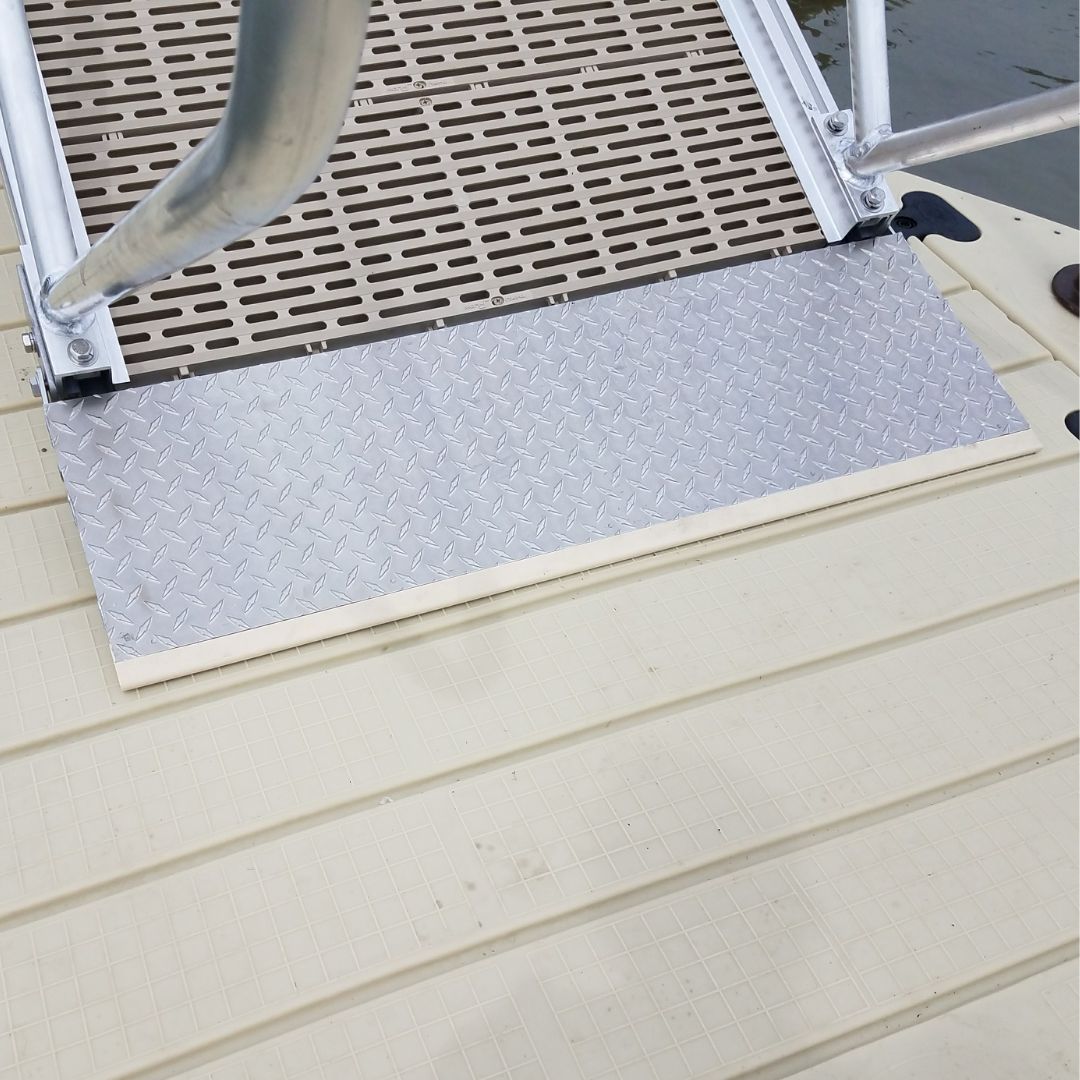 Optional Transition Plate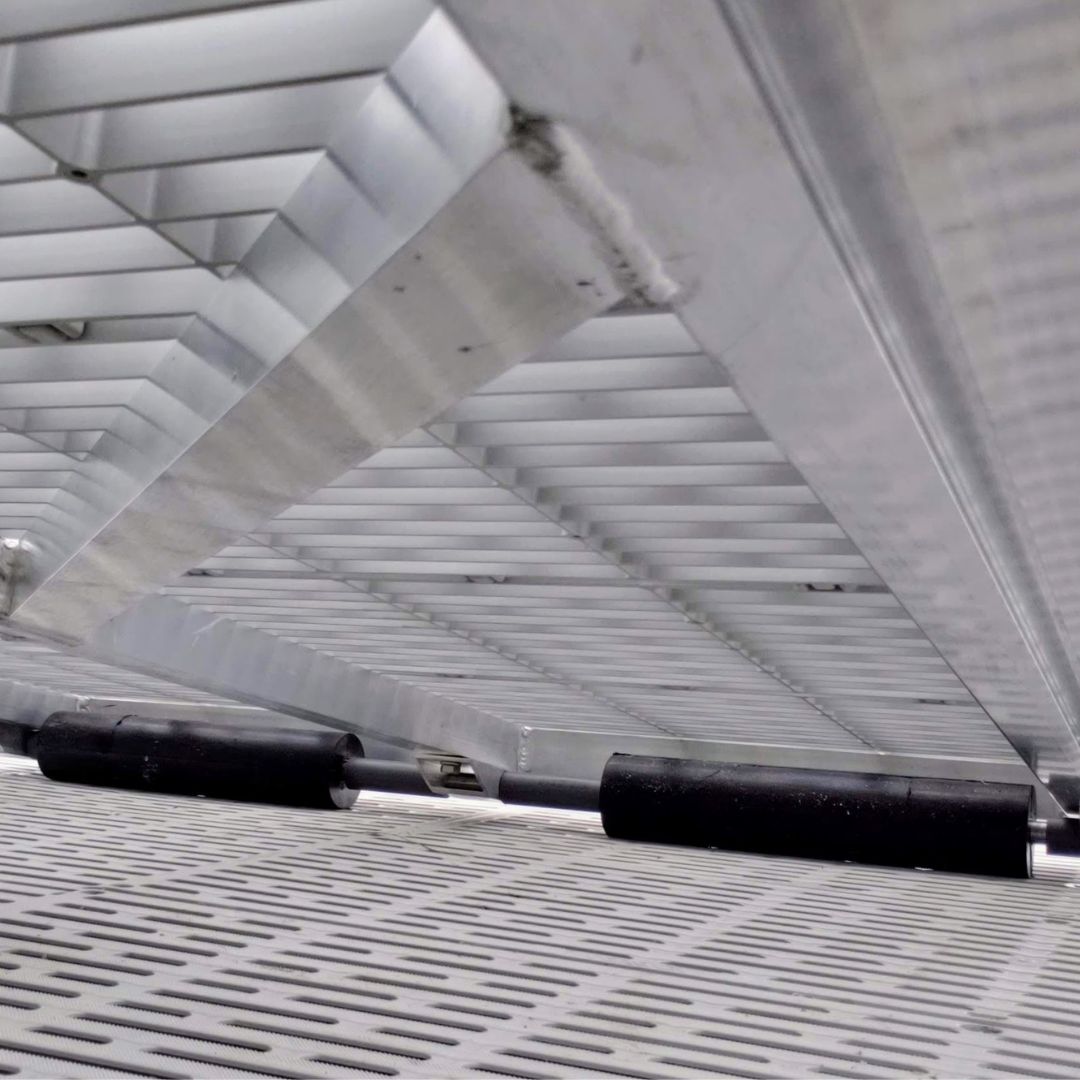 Optional rollers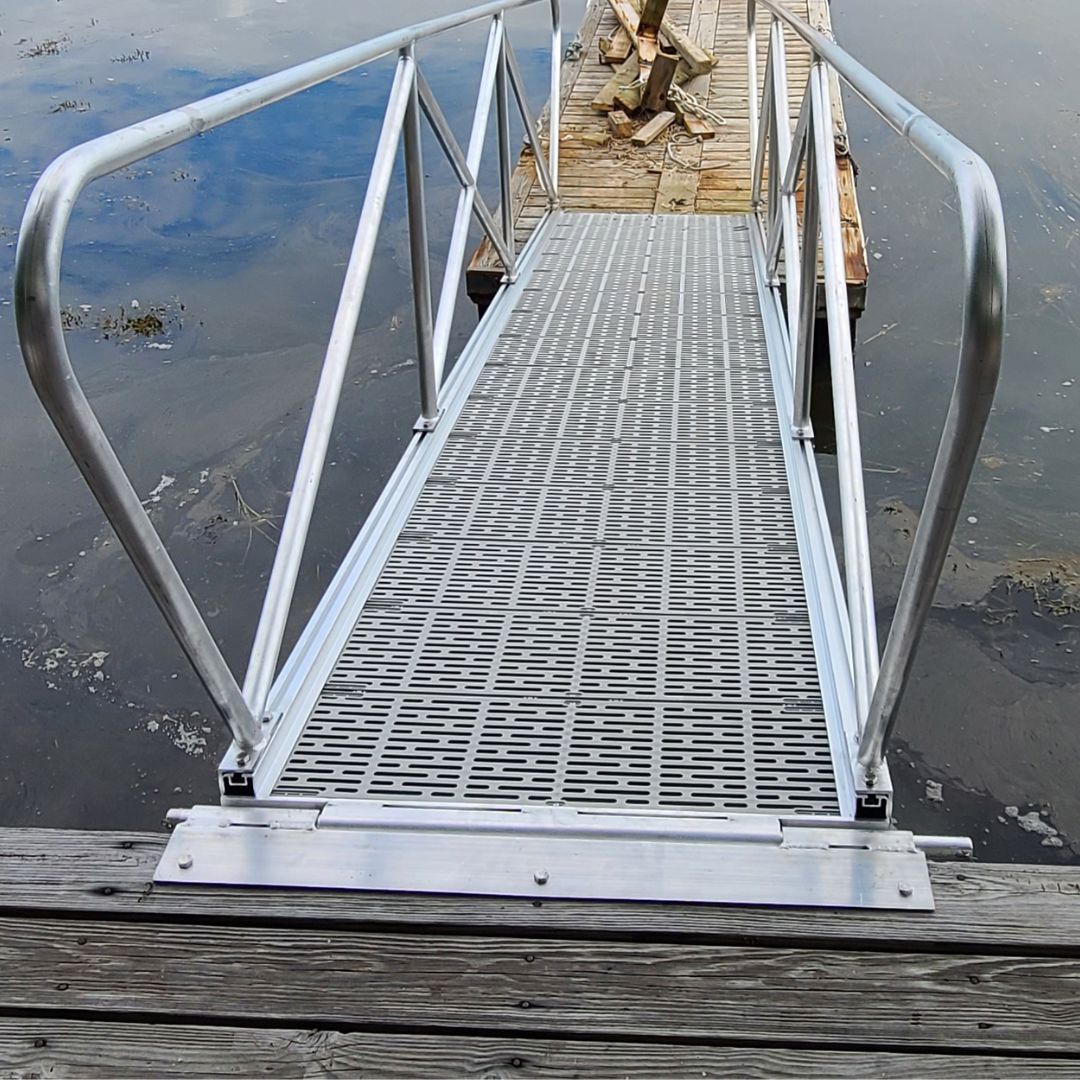 Variety of hinge kit options for EZ Dock, FWM Docks, wood/concrete, and more.
FWM Aluminum Gangway Railings meet or exceed ADA standards.
Choice of Aluminum or ThruFlow decking
Piano hinge connector system allows platform to adjust to fluctuating water levels.
Available in standard 3' and 4' widths as well as custom sizes.
Railings bolt into retention channel on frame extrusion. Makes for easy, inexpensive shipping.
Gangways can be configured to meet or exceed all ADA requirements.
Sizes
Modular Design in a Variety of Sizes
Available in standard 3' and 4' widths. Standard lengths start at 10' and increase in 5' increments up to a maximum length of 30'. * Custom sizes and widths are also available.
3' x 10' Gangway w/ ThruFlow Decking
3' x 15' Gangway w/ ThruFlow Decking
3' x 20' Gangway w/ ThruFlow Decking
3' x 25' Gangway w/ ThruFlow Decking
3' x 30' Gangway w/ ThruFlow Decking
4' x 10' Gangway w/ ThruFlow Decking
4' x 15' Gangway w/ ThruFlow Decking
4' x 20' Gangway w/ ThruFlow Decking
4' x 25' Gangway w/ ThruFlow Decking
4' x 30' Gangway w/ ThruFlow Decking
Applications
Ideal for a Wide Range of Uses
Residential and recreational, commercial and industrial, and much more — our top-quality dock sections are safe, sturdy and built for the long haul.
Commercial
Our standard gangway products are perfect for the small to mid-size marinas. We offer a rugged and proven design. With financing and leasing options available, there has never been a better time to find out how you can benefit from an FWM aluminum gangway.
Residential
Wouldn't it be great to have the best dock on your lake or at your riverfront or oceanfront setting? With so many options available in the residential aluminum dock and gangway market it's easy to get confused. At FWM, we make things simple. We provide our residential customers with low-maintenance docks and gangways that are both quality built and hassle free.
View Gallery
Camp/Parks & Recreation
We offer aluminum gangway systems that are perfect for camps, parks and recreational projects. With our standard aluminum gangway, you can easily create a safe and cost-effective access solution for your project.
Government
For government projects that require a more elaborate or custom design, we can help. We can also provide a fully compliant ADA (Americans with Disabilities Act) solution to meet the needs of any project.
Home Owners Association
Over the years we've created several dock systems for homeowners associations. Whether your upcoming waterfront project is large or small we can provide you a maintenance free docking solution that benefits everyone in your community.
Trail Systems
We make it easy to create an elevated walkway through wet areas. FWM trail systems have the ability to elevate up to 10′ above the ground making access through wet areas a breeze. The FWM trail system uses our traditional dock frame and any of our decking surfaces. Add railing and even hinge kits to accommodate changing elevations.
View Gallery
Warranty
Built to Last a Lifetime

Our durable, long-lasting dock systems are designed to provide many, many years of dependable service and enjoyment with minimal maintenance. They are crafted from the highest-quality materials and components, and we proudly stand behind all of our products.
Reviews
Quality product, I tell everyone they can buy from FWM Docks without regrets. Makes my waterfront look amazing compared to when we had an old wooden dock we used to have.
When searching for a dock, the quality of FWM jumped right out at me. I felt like I had been looking at imitations the whole time and I had finally come across the real deal. I fell in love with the dock, then I fell in love with the company. Everyone there was very helpful.
I made my own dock a couple of years ago. What a mess! With the new dock we bought from you, it not only looks great but we can add to it and modify it, which is the best part. I recommend FWM Docks to everyone I know. Your docks are top notch and buying your product is the right move if you care about your waterfront, boat and family.
FAQ's
We're Here to Help
Here we've compiled some of the most frequently asked questions we get from customers. Please contact us if you don't find the information you're looking for.
Q: Are FWM Docks saltwater safe?
FWM Docks are saltwater safe. Over time, aluminum will naturally oxidize. This actually provides our dock frames with a layer of oxidation protecting them from the saltwater.
Q: Can I Install a FWM Dock on my Own?
Installing your new dock system from FWM is relatively easy. It does require a bit of mechanical ability, but if you have a friend and can lift 50 lbs. it can usually be completed within a few hours. You can always reach out to your dock specialist for tips on installing your particular layout or check out our owners manual for reference.
Q: Does the FWM decking get hot?
We have a list of criteria that each decking surface must meet before we think about using it on our docks. The temperature on a hot summer day is critical. All of our decking options will heat up about as much as a regular wooden dock plank.
Q: Does FWM Docks ship nationally? How does the process work?
FWM works with multiple shipping companies and brokers to provide you with the lowest possible freight charges. Some customers have access to a loading dock where we can ship everything on one skid. Others require a residential delivery with a two-man lift gate dropoff. Our FWM Docks are located all over the country and we have developed creative, cost-effective ways to make every dropoff seamless for you.
Q: How do I order replacement parts?
You can call our parts department directly or visit our online store.