Maybe you're considering installing your first dock, or you're replacing a dock that's had a good run. Which style will you choose — fixed or floating? Which type will enable you to get the most out of your waterfront? We've got you covered with a full breakdown of fixed docks vs. floating docks, including pros, cons, and important considerations.
Fixed Docks vs. Floating Docks: What is the Difference?
10 Key Considerations When Selecting a Dock Type
FAQs About Fixed Docks vs. Floating Docks
Which Dock Type is Right For You?
What Is a Fixed Dock?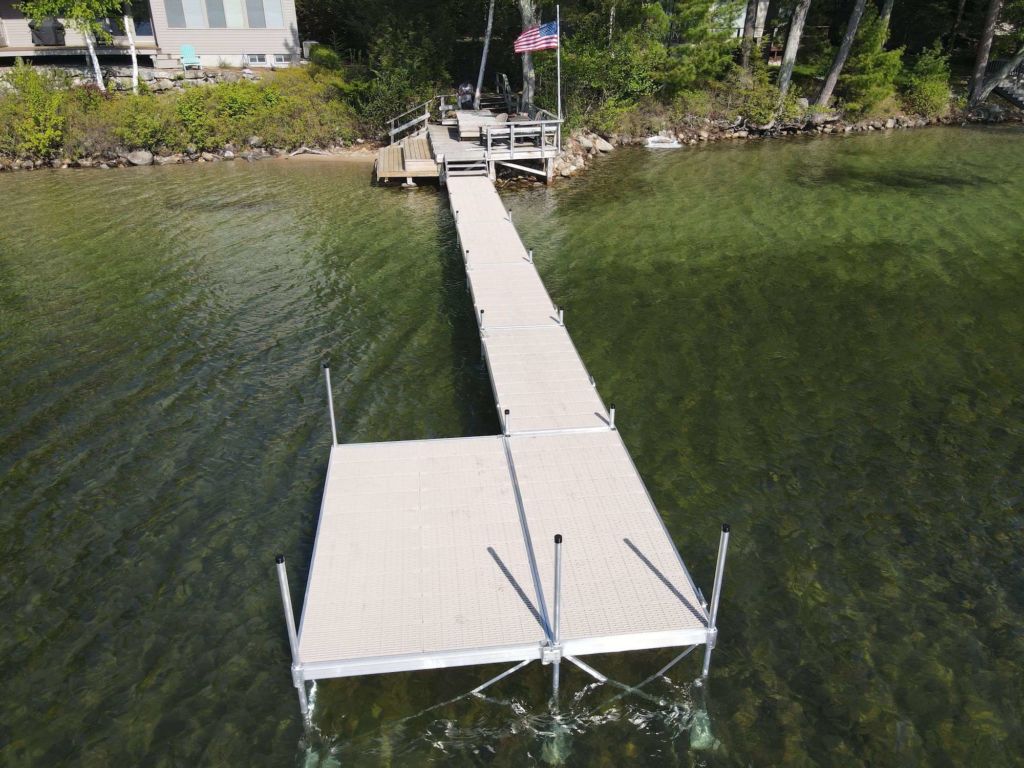 Fixed docks are stationary structures placed in or near bodies of water to help with the transition from land to water. They are secured by vertical poles called pilings, which are driven into the shoreline or ground. The height of the pilings is determined by the water depth or shoreline grade, and some pilings can be adjusted to accommodate changing water levels.
Depending on the region, fixed docks can go by different names, including dock on post, stationary dock, or pole dock. Fixed docks are not meant to be permanent — rather, they provide a stable platform for securing boats, swimming, fishing, and more, and can be removed at season's end or as needed.
Since they remain at a single height, stationary docks are intended for shorelines with less than two feet of water fluctuation. The maximum water depth for a fixed dock should not exceed 10 feet; docks placed in deeper bodies of water should either be floating or permanent to provide the most stability (though permanent docks are prohibited in some areas due to environmental restrictions).
Unlike permanent docks, which are made from materials like wood, steel, or concrete, removable fixed docks are typically made from much lighter weight aluminum. This enables dock owners to remove their fixed dock for repairs or to store it until the next season.
What Is a Floating Dock?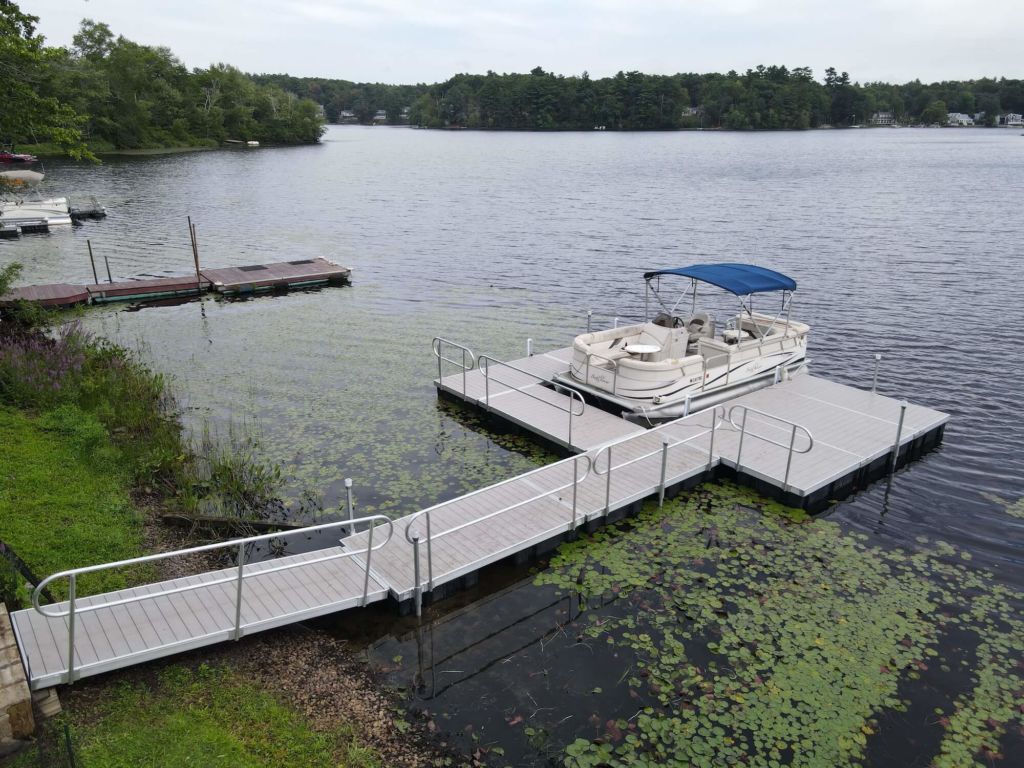 Floating docks are buoyant platforms that provide easy access to boats, swimming areas, or simply a place to relax on the water. They are secured to the shoreline or ground by an anchor attached to a line or cable with enough slack to allow for movement. Floating docks can feature decking made of wood, plastic, or aluminum, though their flotation drums (which give them their buoyancy) are almost always made from plastic.
Floating docks are ideal for tidal waterways that experience regular depth changes or areas that are prone to storms. No matter the depth of the water, the freeboards — the portion of the dock above the water — remain the same height, which prevents the dock from being submerged at higher tides. Depending on the material and the local climate, some floating docks can be left in the water year-round.
Most floating docks need at least two inches (plastic) to four inches (aluminum) of water to float and are primarily designed for "safe harbor" conditions. This means that they are capable of sustaining continuous wave action of up to one foot while remaining stable, but not waves higher than three feet. If prolonged, excessive waves are expected, floating docks should be removed from the water.
Since floating docks placed in tidal waters will rise and fall, they require a ramp or gangway from the shore that will adjust to the dock's movements and provide stable, dry access. Floating docks in non-tidal waterways such as lakes are typically placed three to six feet off the shoreline and require a shorter ramp.
Heavy-duty floating docks are sometimes used for commercial projects, especially those that take place under bridges or alongside waterfront properties. They provide a less expensive leasing alternative to Poseidon barges, sometimes for as much as an eighth of the cost.
Fixed Docks vs. Floating Docks: What Is the Difference?
Besides the clear difference — that one is stationary and one floats — fixed and floating docks have some important distinctions.
But first, here's what you can expect from both a fixed dock and a floating dock:
Both are constructed from similar materials.
Both allow for some customization.
Both provide a safe platform from which to board or exit a watercraft.
Both can be used as walkways, swim floats or simply places to sit and relax on the water.
Now onto the real question — what are the pros and cons of each?
Fixed Docks: Pros & Cons
FIXED DOCK PROS
FIXED DOCK CONS

Provide stable footing when boarding and exiting watercraft

Solid structure helps

keep boats in place

Can support boat lifts

Modular fixed docks provide versatility

Can withstand frequent movement, i.e. choppy or stormy waters

Can withstand the effects of heavy water traffic 

Tend to cost less than floating docks

Well suited to shallow water

Provide the option to create shady spots or places for entertaining

Unable to accommodate significant water level changes

May become submerged if water level rises

Can make it more challenging to board or exit watercraft when water levels are low

Longer pilings for high water levels will add to overall cost

Can be difficult to install in excessively muddy conditions

Not suited for deep water (max. 10 feet)
Floating Docks: Pros & Cons
FLOATING DOCK PROS
FLOATING DOCK CONS

Can be placed in both shallow and deep water

Can be placed on shorefronts that have fluctuating water levels

Provide consistent freeboard and deck height at all water depths

May be left in the water year-round

Easily customizable

Relatively easy to install, remove, and reposition

Easy to maintain

Not recommended for areas with heavy water traffic

Many don't support

boat lifts

 

Up to a third more expensive than fixed docks due to flotation drums

Can be uncomfortable or unsafe to use in choppy conditions
10 Key Considerations When Selecting a Dock Type
Selecting a dock for your waterfront property is not as simple as picking one up at the store. You'll want to carefully consider the following when weighing your options between a fixed dock and floating dock:
Dock use. What will you be using your dock for? If you'll primarily be docking and launching boats, you'll want a platform that's stable enough to keep you and your boat safe in rough conditions. Likewise, if you're going to use your dock for relaxing and entertaining, think about whether you'd mind being jostled by choppy water or boat wakes.
Space. How much space do you have for a dock? Both stationary and floating docks come in slim profiles, but floating docks do feature extra parts (the flotation drums). Space is especially important when it comes time to remove and store your dock system.
Water depth. How deep is the water where the dock needs to go? Floating docks require at least four feet of water to float, and stationary docks in water deeper than 10 feet may no longer provide adequate stability.
Bottom conditions. The makeup of your waterfront and shoreline impacts the type of dock you can install. Muddy bottoms and steep drop offs covered in loose rocks are not always compatible with fixed dock pilings, since the pilings can sink or become dislodged. You also want to be sure a floating dock's anchor will stay in place.
Water fluctuations. Does the water level change? How often and by how much? You don't want your stationary dock to become submerged at high tide, nor do you want boarding and exiting a watercraft to be difficult at low tide. Floating docks are ideal for changing water levels, but be mindful of the wave action and water traffic in your area, which could make the dock unstable.
Budget. How much are you willing to spend on a dock and dock-related services? Floating docks can be up to a third more expensive than stationary docks, and installation services come with fees, so be sure you're prepared for the final total.
Residence. Are you installing your dock at your permanent or seasonal residence? If you plan to leave your dock in the water year-round, floating docks may be the way to go, depending on the weather and climate. If you do not own the waterfront, you may not be able to install or store a fixed dock on the property.
Weather. If you live in an area prone to storms, a fixed dock (and your boat) could sustain a lot of damage from rough seas. Heavy snow and ice may also have a negative impact on stationary docks that are not removed from the water. While floating docks might not provide a stable platform for people in stormy conditions, they at least allow boats to rise and fall alongside them, minimizing collisions.
Materials. Are the dock materials important to you for aesthetic, environmental, or maintenance reasons? Think about how much maintenance you are willing to put into your dock, since some dock materials may require more upkeep than others. If aesthetics are a priority, consider which materials will require the least amount of maintenance while still looking sharp.
Local regulations. Are there municipal, state, or regional limitations on permanent marine structures? Be aware of any necessary permits or laws that govern dock installation before purchasing or installing your new dock.
If you've weighed all these factors and are still unsure which dock to choose, take a look at what your neighbors are using. Chances are, dock owners nearby can make recommendations about the best option for your waterfront, as well as tell you which products won't work.
No matter which type you choose, proper maintenance and upkeep can help your fixed or floating dock last for years.
FAQs About Fixed Docks vs. Floating Docks
Can I put a stationary dock in saltwater?
If regularly maintained, stationary aluminum docks will last for decades, especially when installed in calm saltwater bodies. However, stationary docks are not recommended for areas that experience large tides or significant water fluctuation. Prolonged stormy or turbulent conditions can also negatively impact the lifespan of any dock, floating or fixed.
Can floating docks be made of aluminum?
Yes, floating docks can feature aluminum, plastic, or wood decking. The flotation drums, which give floating docks their buoyancy, are almost always made of hollow plastic.
How do I clean my floating dock?
To clean the decking of your aluminum floating dock, use mild soap, water, and a brush as needed. You can also use a mildly abrasive Scotch-Brite pad to shine up the surface. Plastic docks can also be cleaned with soap and water, but the flotation drums on any floating dock are susceptible to marine growth that may need to be scrubbed off without soap. The best way to clean marine growth off plastic floatation drums is to remove the dock from the water, flip it over, let it dry, then brush off the dried algae and plant life.
Are fixed docks safe for the environment?
Since fixed docks require posts embedded in the ground, there is some concern that they could be harmful to the environment. Responsible dock installers take care to avoid disturbing any animal or plant life and ensure that the type of dock they're installing won't contribute to erosion. Regardless of type, aluminum and plastic docks are far less harmful to the environment than wood, which can release harmful chemicals into the water and encourage excessive marine growth. Many aluminum and plastic docks, including those made by FWM Docks, are recyclable.
Which Dock Type is Right For You?
Whatever your waterfront needs, FWM Docks has you covered. We manufacture our own line of stationary, floating, and rolling docks in plastic and aluminum, as well as a wide range of dock accessories and add-ons. Our dock systems are designed to be modular, so you can customize your stationary or floating dock to fit your unique waterfront.
Not sure what you need? Try our Dock Selector tool to get started. An FWM rep can answer any questions you have along the way.